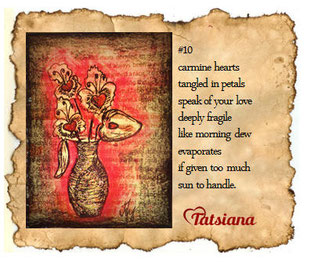 If love was the water, it would need more moisture to grow. It would dry out under the heat.
If love was the fire, it would survive the heat, but would die under the water.
Whatever love is, it is fragile and needs care. It needs the force of the same nature to make it strong. The opposite force, no matter how attractive it might be, will only destroy it.
Celebrate the differences, but don't let incompatibilities to diminish your essence.
#10
carmine hearts
tangled in petals
speak of your love
deeply fragile
like morning dew
evaporates
if given too much
sun to handle.
- Tatsiana