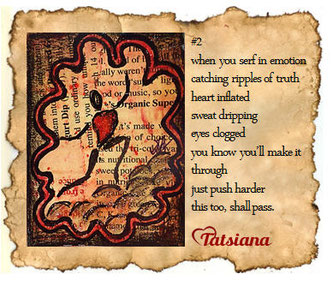 There are times when emotions overflow. Ignoring them or trying to suppress is not the healthiest thing to do. However, they affect our decision making skills. We simply cannot think and see clearly through the fog of tears. The best way to deal with emotions is to try to detach from them and watch them from the side. You can't stop the tide, but you don't have to surf in it.
Just remember - this, too, shall pass.
#2
when you serf in emotion
catching ripples of truth
heart inflated
sweat dripping
eyes clogged
you know you'll make it through
just push harder
this too, shall pass.
- Tatsiana